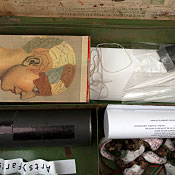 Each month from August 2011 – May 2012, new works by the Hats were collected in a box chosen the previous month. These collective creations function as time capsules, tracking and documenting the evolving group dynamic, and leading directly to the collaborative projects pursued simultaneously and since.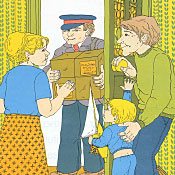 Working both independently and in concert, Hats responded to children's books chosen from a collection purchased by Robert Tomlinson. Wide latitude was given (and taken) in the mode of working, and the new works that resulted vary from alterations to homages to complete transformations.
Details coming soon
For Alice — Iterations for The Feralist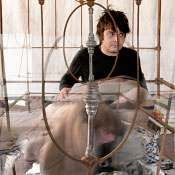 An iterative collaboration process, undertaken by successive subgroupings of 13 Hats, and featured in the first issue of The Feralist, to be launched in tandem with the March 2013 exhibition 13 Hats at 12 x 16. The Feralist is edited by Alice Hare and published by Standard Schaefer.
Details coming soon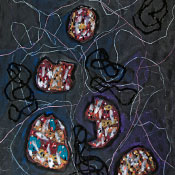 A jointly evolved and intertwined suite of twenty-five drawings by Robert Tomlinson and a text by Standard Schaefer — inspired by the oceanographic maps of Matthew Fontaine Maury.
Details coming soon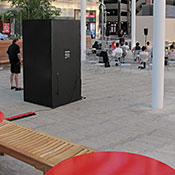 On the 68th anniversary of the bombing of Hiroshima, the Director Park Reading Series was devoted to readings by survivors and witnesses, with two simultaneous interactive installations on the plaza: Targets by Robert Tomlinson and Shadow Box by Anna Daedalus and Kerry Davis.
Details coming soon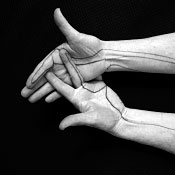 A collaborative study, in which Anna Daedalus and Robert Tomlinson explore figure/ground and subject/object relationships.
Details coming soon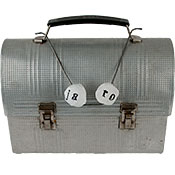 An old tin lunchbox, containing five scratch boards passed back and forth between James Yeary and Robert Tomlinson.
Details coming soon
Syllaballic Potentiometer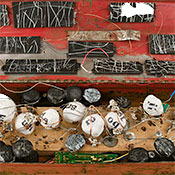 "What would it take to control not a significant amount of power, but enough of a pulse to change the volume, contrast, flow, and rotation angle of the boundaries of meaning?" Robert Tomlinson and Jen Coleman explore such an instrument.
Details coming soon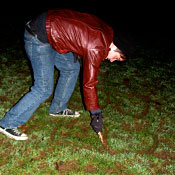 An attempt at a marriage of ritual, land art, and visual poetry, with a little graffiti thrown in for good measure. Based on a proposal by James Yeary (and dedicated to Jim McCrary), executed by Yeary and Jen Coleman.
Details coming soon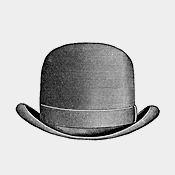 A Red Cross medic box, filled with eighteen X's created collaboratively by Robert Tomlinson and Kerry Davis, signifying the self-inflicted crisis of military suicides, which average eighteen a month.
Details coming soon
Leaves of Grass by Walt Whitman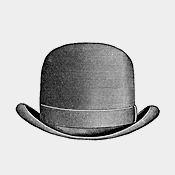 An edition of one of the foundational texts of modern poetry in English, originally produced to accompany a set of long-playing phonograph records featuring readings of the poems, now passed hand-to-hand and altered by a succession of Hats. (In progress.)
Details coming soon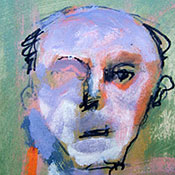 Sixteen works on paper produced collaboratively by two Roberts (Schlegel and Tomlinson).
Details coming soon