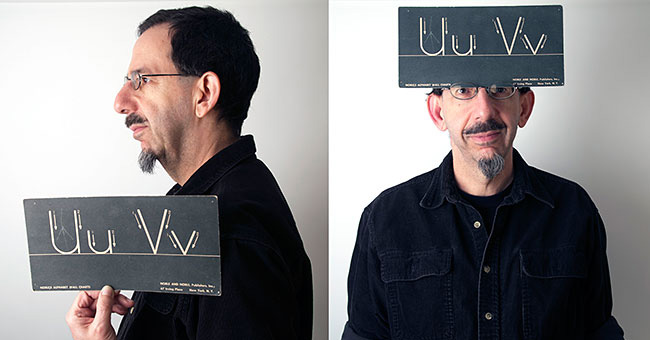 Photograph by Kerry Davis
Poet, editor, interdisciplinary artist, teacher, and the proprietor of Passages Bookshop, David Abel saw three new books published in the summer of 2012:
Float, a collection of collage texts (Chax Press)
Tether, a chapbook of poems (Barebone books)
Carrier, a hypergraphic visual sequence (c_L Books)
Other recent publications include the collaborative artist's books While You Were In and Let Us Repair (disposable books, with Leo & Anna Daedalus); with Sam Lohmann, he publishes the Airfoil chapbook series, and from 2002–12 he published twenty-four issues of the free broadside series Envelope.
In the past decade Abel has devised more than thirty performance, film, theater, and intermedia projects, both solo and with a wide range of collaborators. A founding member of the Spare Room reading series, now in its eleventh year, he also teaches writing, most recently at the Multnomah Arts Center, where from 2009–12 he was the coordinator of the Literary Arts program. An inaugural Research Fellow of the Center for Art + Environment of the Nevada Museum of Art, he curated the exhibition Object Poems for 23 Sandy Gallery in November of 2011.